Annual Report
112th Operating Year of News Media Finland
New name, new forms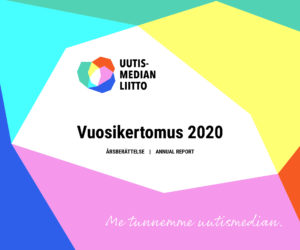 In 2020, the Finnish Newspapers Association became News Media Finland. The association's spring meeting decided on the new name in May, and the new name was officially adopted at the association's autumn meeting on 12 November.
International examples were what made us start thinking about changing the association's name. Internationally, the term "news media" has replaced the term "newspaper". We felt that "news media" is a modern and platform-independent term. It covers both print and digital publishing and connects all of the association's media members. However, we will still be talking about newspapers along with news media, as most of our member publications are newspapers.
The new name and the modern appearance that represents news media's many voices was received very well.
The year 2020 was also a historic year in other ways. In March, the COVID-19 pandemic spread to Finland quickly and led to the Government declaring a state of emergency and the use of the Emergency Powers Act.
Demand for reliable information produced by news media reached its peak as advertising revenue fell by half. Our member companies were able to do their work well even in these exceptional circumstances. The time spent consuming media increased significantly during the COVID-19 spring, and biggest increase was seen in those reading digital newspapers and free newspapers.
Temporary layoffs helped publishers adapt to the crisis, but many free newspapers had to suspend their operations or close down altogether. Fortunately, the shortfalls in media sales narrowed towards the end of the year. We influenced the COVID-19 support for journalism, which was distributed in December. However, the support alleviated the difficulties of news media companies only a little.
We maintained the association's operations effectively and efficiently, while working mostly remotely. We safeguarded our member companies' interests in the exceptional circumstances, provided advice and training and offered a forum for discussion and sharing of experiences among colleagues. We asked our members many questions, and received many answers that helped us in our work.
Safeguarding of interests
In 2020, we influenced the amendment of the Act on Yleisradio Oy that finally progressed last year and communicated the news media's views on the need to amend the Postal Act. We made sure that the great significance of news media and other media in ensuring citizens' freedom of speech was taken into account in the Government's decisions on COVID-19 support.
We participated actively in safeguarding the interests of Nordic, European and global news media publishers in cooperation with other organisations in the industry.
Marketing and surveys
We produced the Kuinka minun käy? ("What will happen to me?") materials to support our member newspapers' reader marketing. In the materials, we remind our members that news media not only conveys the latest news but is also genuinely present in people's everyday life, offering perspectives and peer support. On World Press Freedom Day, our message was that we have the freedom to use our words to do good.
We collected plenty of information and views to support the competitiveness of the industry. Our most significant finding was that young people's brand perception of newspapers has become even stronger and their interest in politics has increased.
Media education
During Newspaper Week, we focused on climate change, media coverage of climate change and the youth climate movement and challenged children and young people to have their say on matters that are important to them together with our member newspapers. The slogan for the week was "Kyky muuttaa maailmaa ei kysy ikää" ("Your ability to change the world does not depend on your age"). The survey Nuoret, media ja ilmastonmuutos ("Young people, the media and climate change"), published during the week, revealed that young people want climate coverage to offer solutions and want to have their voices heard better in the media.
We provided teachers with many kinds of tools to support teaching and produced materials for our member newspapers with the theme "Mediakasvatus onnistuu myös etänä" ("Media education can also be done remotely"). The Nuorten mediankäyttö ja korona ("Young people's media consumption and COVID-19") survey showed that COVID-19 has increased the hunger for news among young people aged 13–18.
In late 2020, we launched the new website uutismediakasvatus.fi for teaching use.
Free newspapers and local newspapers
Our free and local newspaper departments worked to develop the newspapers' own work and expertise in maintaining their credibility in both editing and marketing. We also supported the newspapers in becoming digital and boosted their image as a credible source of information.
Our long-term efforts to make measuring the number of readers more common among free and local newspapers took a big step forward as a record number of new local newspapers had their KMT reader numbers measured.
The prizes for the best free and local newspapers were awarded at the virtual Vuoden parhaat ("Best of the Year") gala. We updated both the evaluation process and the method of giving feedback in the competition.
Suomen Lehdistö
We had more online visitors than before. We prioritised the online environment more than before when publishing our best pieces. In our content, we used the methods of journalism to offer concrete tips for developing the news media.
In 2020, eight print issues of Suomen Lehdistö were published, of which issue number four was a statistics issue presenting data such as the sales data of newspapers. Our newsletter was published weekly.
Events and training
We helped our member newspapers network with each other and increased interaction among newspapers through events and training sessions. We organised more training sessions than in the previous year for our members. The training was mostly done remotely. Webinars made it possible for even more people to take part in the association's events.
Advice for members
We also helped our members in their everyday operations. Our experts answered questions about the industry, looked for and produced information about the industry and mentored member companies. They were also at our member companies' service at various training and customer meetings during the COVID-19 pandemic.